Pauline Ado, pro surfer
Article written in 2017 by Lou Lefebvre, for the blog Toutes Des Championnes.
Pauline won the Junior World Championship in 2006 thanks to her hard work and perfectionism! But who is Pauline?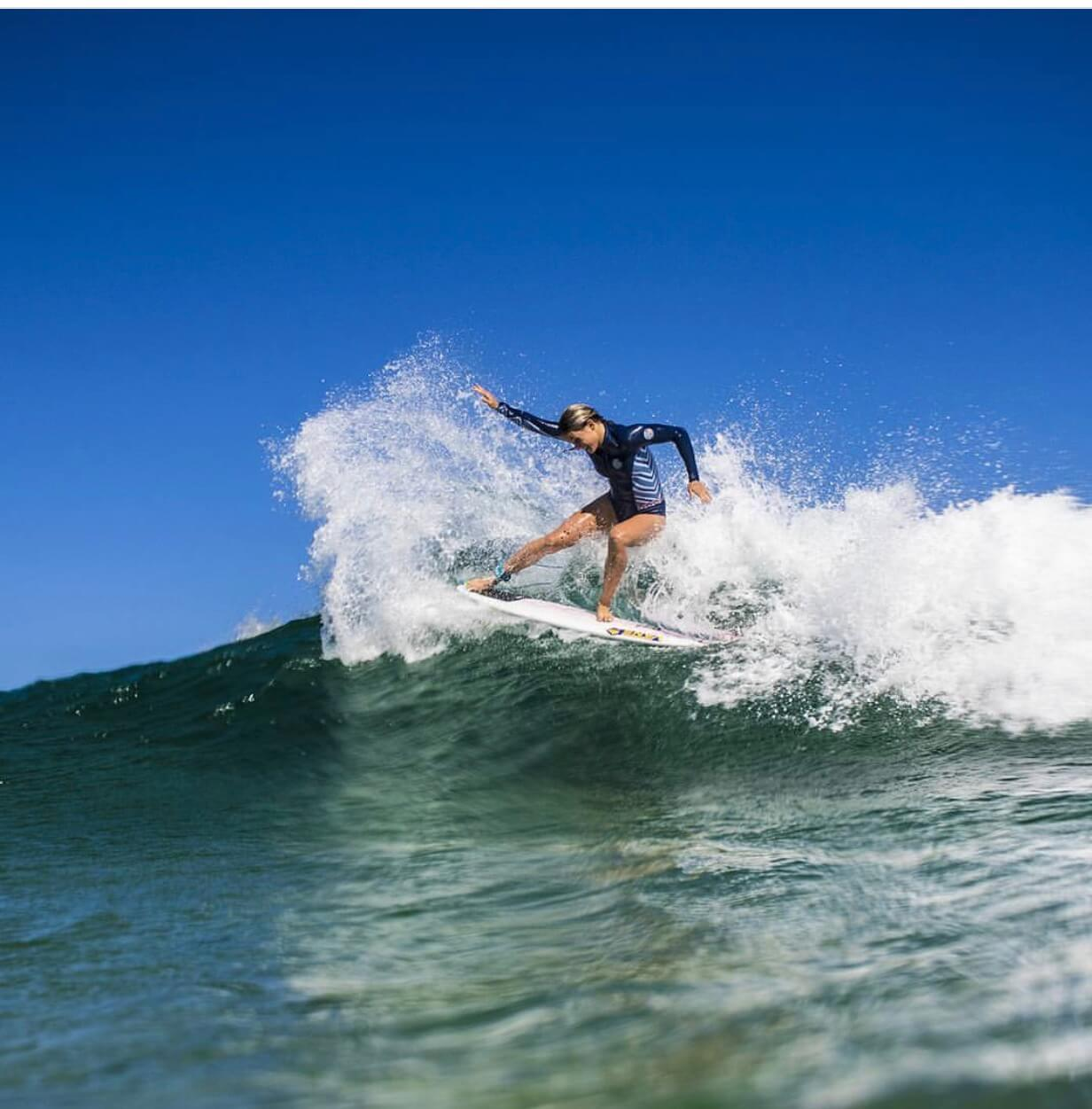 Pauline Ado was born in Bayonne in 1991. Constantly drawn to the ocean and the waves, she started surfing for fun at first, until winning her first competition at the age of ten. It was the revelation! The sponsors are interested in her and she really entered the circuit by joining the France team three years later.
Pauline won the junior world championship in 2006 thanks to her hard work and perfectionism!
She won a second world junior title in 2009 but did not drop out of studies because she joined the Pôle France and she obtained her BAC (with honors please) at the same time as she landed her place in the elite female surfing.
Four years followed in the very select WCT (World Championship Tour: only the crème de la crème of surfers enter) and then left the surfing elite in 2014, failing to earn enough points to stay there.
It was therefore in 2016 that Pauline returned to the WQS qualification circuit (World Qualifying Series: the best 15 of the laps leave with a guaranteed place towards the elite (WCT), you follow?) And again succeeds in entering the elite at the end of the season. She was notably a finalist of the Pantin Galicia Pro at the beginning of September and of the Costa Rica Pro at the beginning of October. Winner of Zarautz Pro in April and Roxy Casablanca Pro in September. It was with a top 6 that she again won the holy grail and returned to the WCT.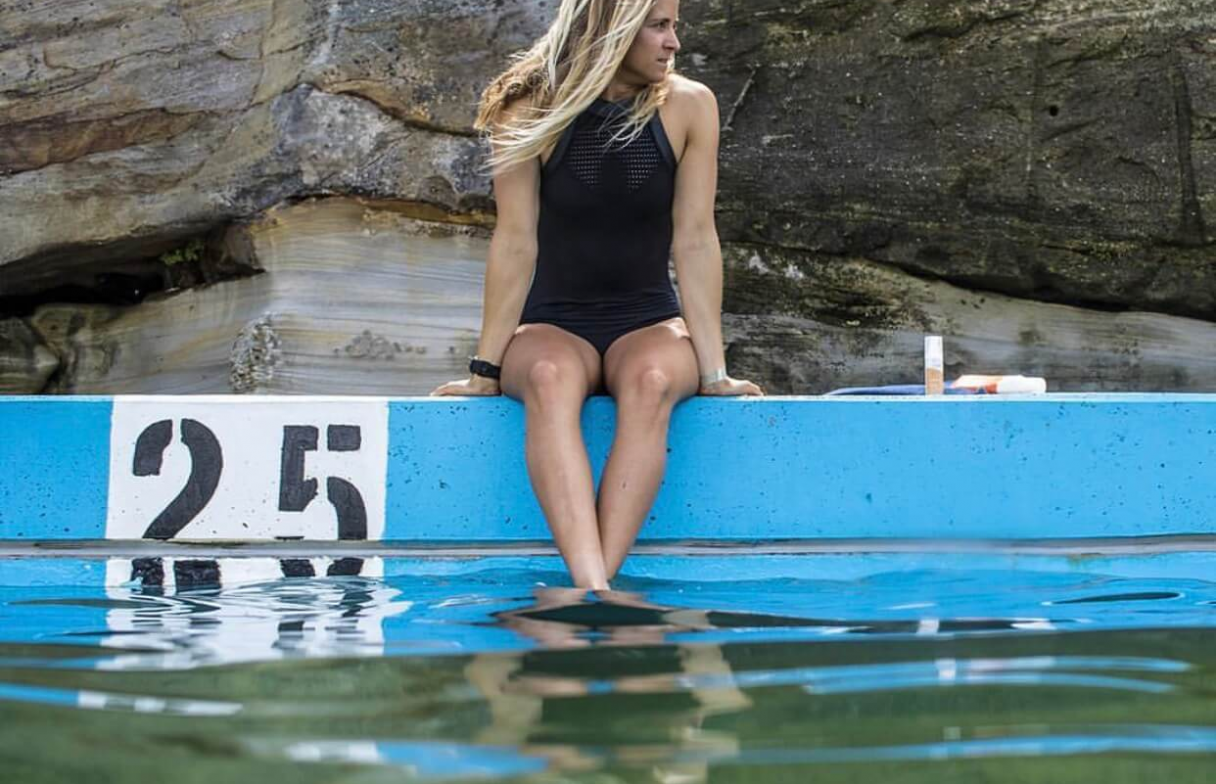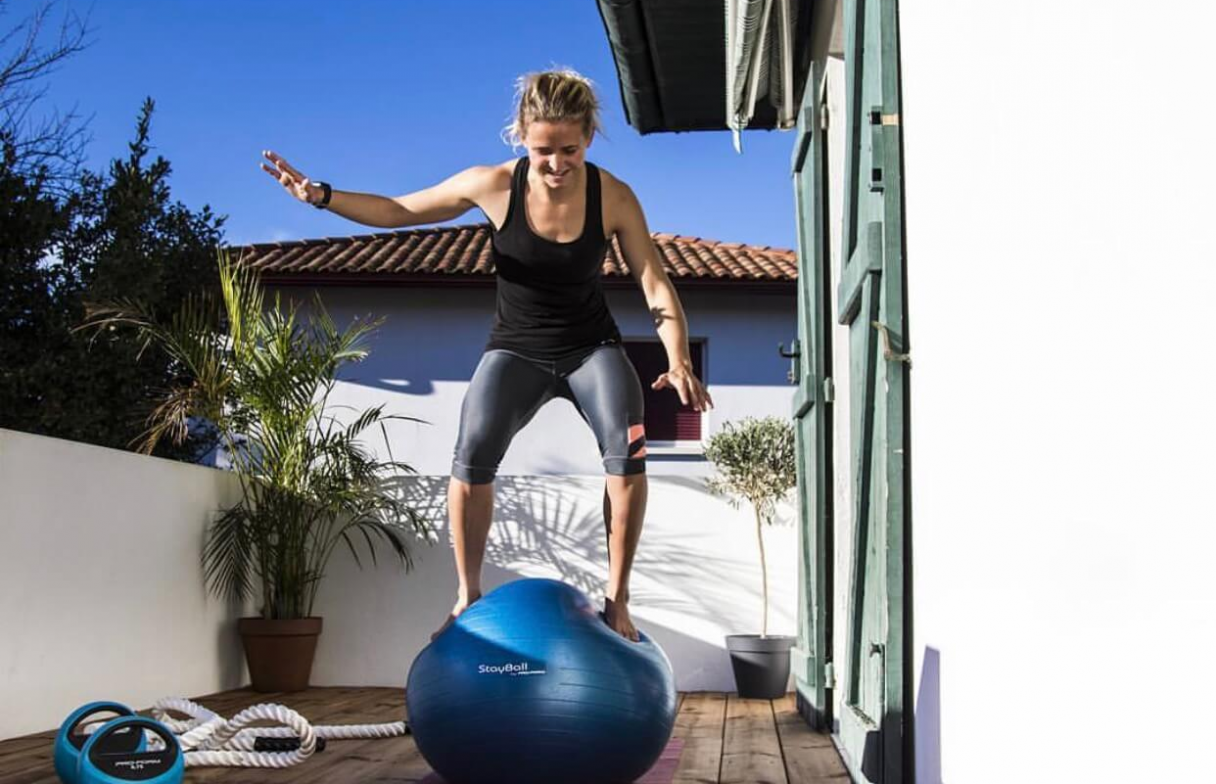 Inspiration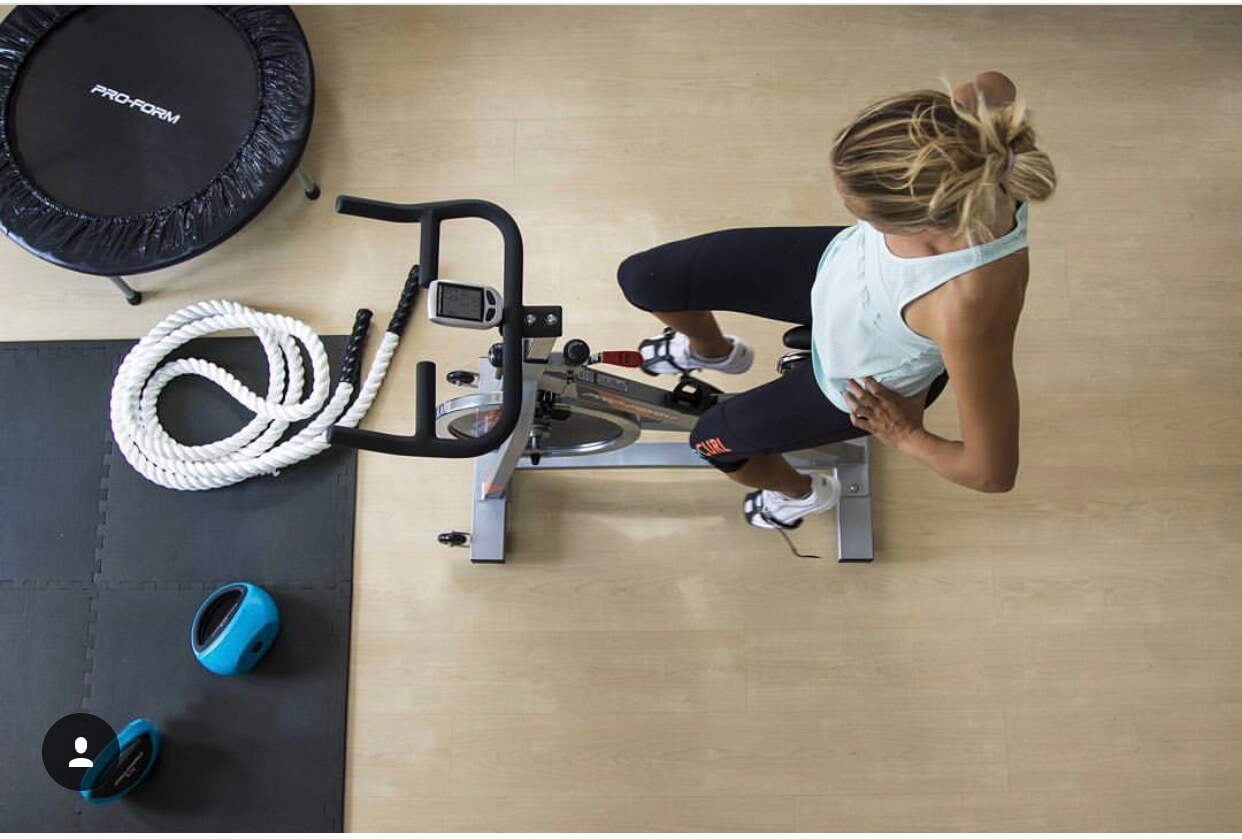 Everything you don't know about Pauline yet
Sporty for a day or sporty forever?
I have always been very sporty. When I was little, I couldn't keep still and I loved playing sports. I rode my bike and Basque pelota with my friends. I played several sports such as tennis, soccer, handball before finally setting my sights on surfing. I got into it when I was 8 in a club. Back then, I spent a lot of time in the water in the summer and had fun with a bodyboard. I naturally wanted to try surfing and I liked it right away.
Who inspires you?
I love life stories, beautiful stories ... and my sources of inspiration are everywhere and very numerous. I discover it every day. I admire people who follow through on their dreams, convictions, or themselves and are capable of extraordinary things to achieve their goal.
How many hours per day do you surf?
This can be very variable depending on the conditions, the time of year, whether I am in competition or not… During the competition period for example, I do several sessions per day but very short so as not to lose too much time. energy. In training, however, I spend more time in the water. I will also spend less time in the water in the winter when the water is very cold. Difficult to answer this question with precision, but as a general rule I do 2 sessions per day.
When did you realize that you would like to make it your job?
At the age of 13, I was selected for the French junior team to go to the junior world championships in Tahiti. It's the first time that I've been competing internationally. Most of the girls were much older than me but I got to see the best in my class (under 18). Inside I was like "I can get to this level in a few years" and that's where the idea of ​​being a professional surfer started to take shape. It hasn't left me since.
A job that makes you dream of elsewhere! what is it to be a surfer? are you constantly on the road to chain competitions?
Our environment is a dream, but it is true that we constantly have a series of competitions. From the outside, we do not always realize the difficult sides such as training, the pressure of competitions, the sessions in the cold ... what I like above all is not having a routine, doing constantly faced with new situations, new wave conditions… We are constantly facing new challenges.
When you are not surfing, do you practice other sports? or do you take the opportunity to lift your feet?
Next to surfing, I prepare myself physically. I do quite a variety of things and work out cardio and muscle building. I incorporate a little crossfit into my preparation. All this already takes me a lot of time but I sometimes do other sports just to have fun: go play a game of squash or pala (Basque pelota), go for a ride in SUP, go swimming ...
Let's talk a bit about your physical preparation! Surfing requires a lot of physical skills, how do you train to perform well in the water?
It is true that you have to be complete enough to be able to perform well in surfing. You have to be enduring and fast at the oar to be able to take the best waves, be very explosive in the legs, have a good balance but also be sheathed and flexible.
In my preparation, I integrate cardio exercises on different supports (running, rowing, swimming ...), circuit training, muscle strengthening, plyometrics, sheathing but also specific exercises that are similar to surfing movements. I train physically 3 to 5-6 times a week depending on the time of year.
From a nutritional point of view, do you follow a specific diet with regard to your sports practice?
I am not on a super restrictive diet but I really want to have a healthy and varied diet on a daily basis. I try as much as possible to eat foods that are fresh, unrefined and free from chemical additives. But I also know how to make myself happy from time to time. I'm not a food control freak.
Ok, I'll take out the glitter and ask you some girls questions;) what's your first gesture when you get out of bed?
If I have to take the very first ... drink big sips of water! My body has become dehydrated during all those hours of sleep. Drinking right out of bed for me is a healthy gesture ... and beauty in the end. Other than that, my first beauty step is to apply sunscreen before finally going to water (Alga Marris tinted cream from Laboratoires de Biarritz).
And the last one before going to bed?
My face is very damaged by the sun on a daily basis. Every evening I apply a moisturizing night cream to my face (from the Laboratoires brand (from the Laboratoires de Biarritz brand). It leaves my skin feeling very soft until the next day.
Apart from training and surfing, sneakers or high heels?
Sneaker without hesitation. Although I do like to look elegant and wear heels every now and then. I prefer the comfort of flat shoes;).
How do you define your dress style? what brands do you like to wear?
I have a pretty laid back style and what to wear is not necessarily my main concern of the day. I like to be feminine but mostly comfortable in my clothes. I mainly wear clothes from the surfwear brand Rip Curl.
Back to surfing, what was your best sporting moment?
One of my strongest moments was my first ISA Junior World Championship title. I was quite young at the time and it was an exceptional result.
And the worst? Have you ever had big pips in the water?
I think I was pretty lucky there and rarely had a big problem. But the worst thing that ever happened to me was having my heel cut off during a session in the Philippines (when the waves were perfect!). Result of the operation: stitches and a month without surfing!
Let's talk big bugs, the champion Mick Fanning was attacked by a great white shark two years ago in full competition in South Africa (he had nothing), have you ever been confronted with a shark? Do you think about it when you surf?
No I have never been confronted with it and so much the better !! When I first visited Australia I was terrified of surfing. Now I don't think about it too much, but in places known for sharks I don't take any chances.
We learned last year that surfing has FINALLY become an Olympic discipline, does this news delight you?
Yes, I can't wait to see what it will turn out to be. I love the Olympics and to see my sport enter this world is a bit of a dream come true.
Besides, should we expect to see you surfing for an Olympic medal in three years?
This is one of my goals. There is still a long way to go. A lot can happen in 3 years but representing your country at the Olympics is something exceptional in the career of any athlete.
 Some time ago, you shot a satirical video to make fun of preconceived ideas and macho clichés about female surfers, is there really a problem of machismo in the world of surfing?
In fact, this video was mainly to make fun of certain abuses that we see in the media or on social networks in the world of female surfing. Wanting to create more and more buzz, we sometimes fall into the excess and irrelevant. It's not all about a number of Instagram followers ...
To complete this interview what can we wish you for the future and what is your next goal?
To be successful in my year sporting and to stay on the WCT ... but more broadly to continue to thrive in what I do.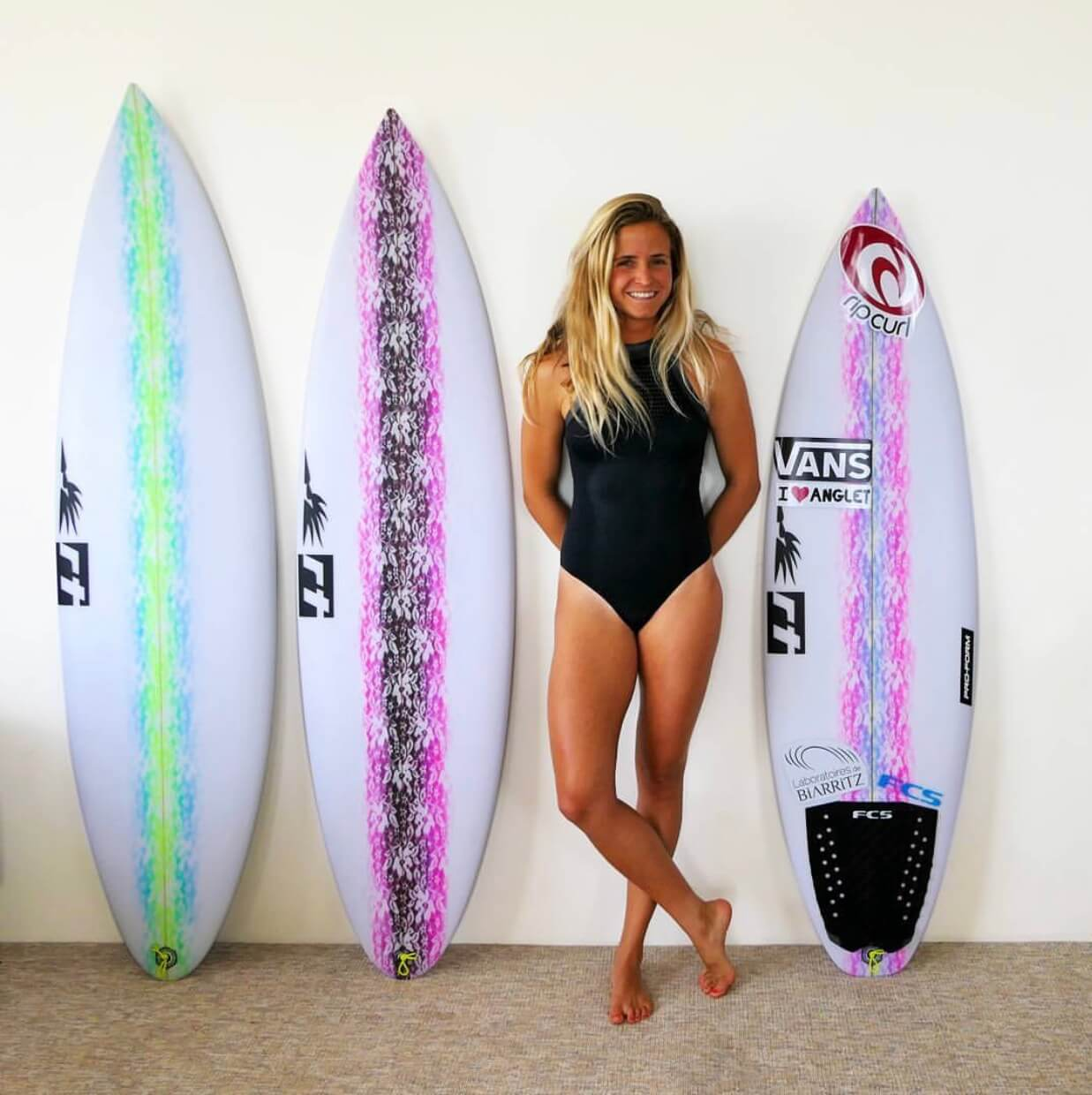 A huge thank you to you Pauline, for this ultra complete interview! 
Surfing makes you want? Sign up for our Health'Fit Surf Week which will soon take place in Spain in Fuerteventura!
PHOTO CREDIT: RIBLANC
Article written in 2017 by Lou Lefebvre, for the blog Toutes Des Championnes.